Audit and strategy
Mapping and evaluating your infrastructure to create a tailor-made cloud strategy
Our experts help you analyze your information system and define your cloud transformation strategy. Our offer is built around a specific methodology:
Infrastructure Audit
Create a technical mapping for your existing IT infrastructure :
Study your infrastructure components
Analyze data flow exchanges between servers
Define the business criticality of each of your applications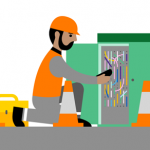 Cloud Readiness Assessment
Run a study to assess the cloud eligibility of your infrastructure and applications, support your decision-making process.
What cloud services would you like to use?
What cloud deployment type (migration, reconstruction, transition to SaaS, etc.) works for you?
How will implementation work?
What will the direct and indirect costs be?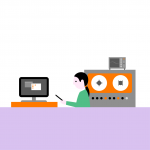 Cloud Migration Plan
Create a detailed migration plan that includes the best strategy for migrating and transforming all of your IT applications and servers to the cloud.

Example of deliverables that we can provide during the various stages: consolidated IT inventory, technical architecture diagrams, application criticality RPO/RTO, cloud eligibility study, cloud migration recommendation and labor estimate, transformation plan, migration plan with costs and associated fees.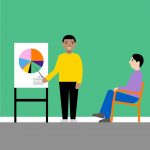 Advantages of our suport solution
More informed decision-making
The IT infrastructure audit will give you a clear idea of the data you control, helping you launch your cloud migration project
Project cost estimation
We estimate how much financial support will be needed for a cloud transformation of your IT system
Cloud eligibility analysis
We identify which applications and data are eligible for cloud services while also highlighting any sensitive data and/or regulatory issues
Key Elements
We install probes to study how your IS behaves under real working conditions
We organize workshops for your teams to exchange with our experts.
We analyze the data collected using the "Cloud Readiness Assessment" matrix, based on criteria related to your company's business, technology, security, and regulatory needs
You will receive a complete analysis of your IT assets: infrastructure, data, applications, functional issues, business issues, organizational issues, to help you make your decisions with confidence
Simple, end-to-end support to define your cloud migration strategy
Many companies wish to be supported in their digital transformation but do not have internal skills.
The Covid health crisis highlighted the shortcomings of companies during an "unexpected event", while at the same time, companies that invested in the cloud were less impacted than others. Switching your IS to the cloud is the guarantee of surviving tomorrow and giving yourself the means to innovate while reducing IT costs, but also guaranteeing continuity of service.
With Move to cloud [Lite], you benefit from the best experts to facilitate your transition to the cloud and easily migrate your applications. Our experts accompany you throughout the process, from the audit to the migration strategy while passing by the acculturation and by the analysis of its maturity to go to the cloud.
Audit
Technical inventory of the infrastructure in place: number of VMs, applications, flows, interfaces, uses …

Urbanization plan, IS mapping, flow matrix, target engineering / architecture file

Security and network

IT organization and process
Maturity
Define the target via the cloud maturity model

Choice of technical and business fields according to the customer's use cases

Identify the differences and the actions to be taken

Show potential benefits and return on investment
Eligibility
Analyze the application heritage and matrix processing via our tools and dedicated workshops

Assess cloud eligibility and level of effort for cloud migration

Define the target from the context and the constraints to arrive at the recommendations
Strategy
Evaluation of the list of application portfolio based on 7 criteria

Provide a roadmap containing the transition plan | migration
A turnkey audit and consulting service to optimize your VMware virtualized infrastructure
Our solution allows you to determine the adjustments to be made to save money and improve the performance of your infrastructure in the short term.
Through this analysis, our experts will also suggest the best solution to adopt: private cloud, public cloud or hybrid cloud depending on your technical and financial IT context. We will therefore assess the potential cost of switching your IS to the public cloud: Amazon web services, Microsoft Azure, Google Cloud Platform or Orange Flexible Engine.
Diagnosis of existing VMware virtual infrastructure
Use of a non-intrusive tool to collect information
Restoration of areas for improvement on the technical part through a complete and personalized report