Public cloud – Partners
Leverage the power of the Multicloud with Orange Business
Owing to our mission critical profile and testimonials from our customers, we are known for our strong set of multi-cloud competencies, helping you to achieve your business ambitions and outcomes.
The public cloud offers a wealth of services to innovate and develop new services. Leading cloud providers are investing heavily in cutting-edge technologies to make them available to their customers.
In a landscape where innovation is the only way to maintain a competitive advantage, Orange Business is determined to stay at the forefront of cloud technologies – driving digital transformation for businesses across varied industries.
We bring a unique set of support and managed services across connectivity, different assessments, architecture design, deployment, migration, security, and proximity service delivery.
Relying on a strategic partnership
Maturity Audit & Target Strategy
Assessment of customer maturity to move to the cloud
Contextualization & evaluation of your assets with an IT audit and application mapping
Eligibility & Migration Strategy
Adopt the right migration strategy for applications according to their criticality
Define the expected benefits of your Cloud Transformation
Architecture Design
Benefit from all the advantages of the cloud in terms of performance and costs
Advise on the best way to migrate your servers and transform your applications to optimize them with AWS
Transition & Migration
Secure the transition to AWS regardless of the customer's target cloud
Propose changes in your delivery model towards more automation and increase the DevOps maturity of your IS and organization
Optimization
Provide a simple service catalog aligned with your needs in the transition phase but also in the RUN phase with a view to optimization (coaching on services, recommendations to reduce costs, etc.)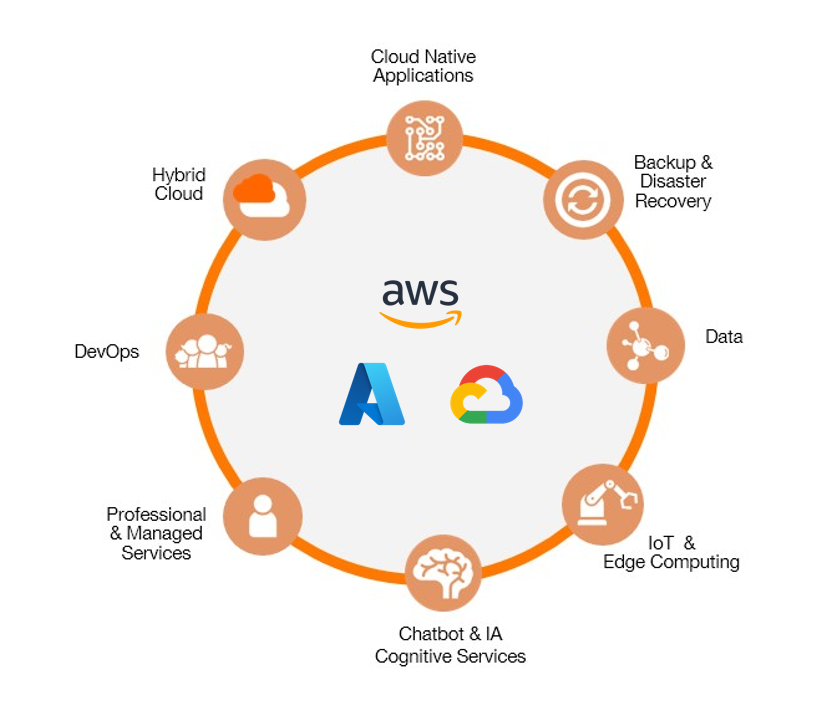 Cloud: a driver for innovation and performance
The adoption of cloud strategies is growing and now encompasses all types of clouds (private, public and hybrid), allowing CIOs to take full advantage of the benefits of each of these technologies, while preserving their existing infrastructures.
Thanks to cloud platforms, companies can grow by leveraging Artificial Intelligence, Big Data, IoT and Cloud Native Applications with faster time-to-market, while reducing their running costs.
The advantages of cloud are multiple:
Access to state-of-the-art technology
Cost optimization and reduction
Improved continuity and DRP
Increased flexibility
Increased agility
Accelerated time-to-market
Setting the Cloud Strategy
The multiplicity of cloud platforms increases the complexity of your infrastructure. To improve the profitability and efficiency of your cloud strategy, support from domain experts is often required.
Orange Business experts certified on the main public cloud platforms (Amazon Web Services, Microsoft Azure, Google Cloud Platform) support you in the implementation of your cloud strategy, from the definition of the challenge to the operation of the solution. End-to-end.
Manage your applications on major cloud providers with our managed services
We carry out the outsourcing and management of your business application assets from end to end and bring value to your processes and user paths.
Application monitoring (24/7 or HO) 24/7 monitoring
Proactive maintenance & automated reporting
Commitments on SLA, GTI, GTR
Request/incident/alarm management portal
Asset and configuration management
Infrastructure capacity and utilization reporting
Change and deployment management
Customized change catalog
Access security and security maintenance
Environment backup and capacity management
24/7 support and service desk assistance
Dedicated correspondent (SDM or RSC)
SAP on the cloud provider of your choice
We provide the database models and architectures best suited to your business. We design a high performance, scalable, secure and highly available architecture to ensure your business continuity 24/7
Assistance in assessing the current environment and providing class design architecture and migration choices in the host application
Expertise on database design in High Availability, scalability and security, disaster recovery, backup and recovery solution, monitoring and reporting, etc.
Manage databases (apply security patches, major releases), configuration management (identify database parameter improvements), monitor hardware capacity and infrastructure, maintain operating documentation
Propose database architecture evolution and improvement based on ITIL best practices
The Cloud Center of Excellence
Our expertise is widely recognized on AWS, Microsoft Azure, Google Cloud Platform, Flexible Engine, OVHcloud and innovative service offerings (containers, native cloud services, cognitive services, etc.). We enable organizations to develop new practices and focus on the core business, while guaranteeing the security of their infrastructure and data.
Orange Business Cloud Center of Excellence (CCoE)
Our Cloud Center of Excellence (CCoE) ensures the technical, organizational, and financial consistency of your cloud strategy, with the aim of guaranteeing uniform and efficient management of your cloud engagements. The CCoE defines and applies vendor-specific best practices for the deployment and management of your solution.