Private and hybrid cloud
Seize the opportunities you'll see as your transformation to the cloud.
Contact us
Free up your resources to focus on your challenges while accelerating the deployment of your business applications
Our private and hybrid cloud solutions rely on the most innovative cloud technologies. We build dedicated infrastructure that meets the specific needs of your business. Through a complete and flexible service catalog, our solutions allow us to host and operate all types of applications by ensuring the security and high availability of applications.
We design, integrate and operate end-to-end infrastructure in France and abroad to serve every geographic area of your project. We provide quality of service at every stage of the project. Our teams, located on all key geographical plates, operate infrastructure and applications 24/7 in accordance with European and local laws.
Our private cloud solutions can be implemented in our customers' and/or Orange's data centers or within our global network of partners.
The advantages of our private cloud solution
Flexibility
We build hyper-converged architectures that allow you to support any type of application (Legacy, Database, Cloud Native).
Security
We can set up on dedicated infrastructure set savers against disasters and data loss, in compliance with project-specific regulatory compliances.
Application management
Our outsourcing services combined with highly available infrastructure ensure the resilience, elasticity and scalability of your applications.
The power of the public cloud on your premises
Combine the power of the Orange Business Services: public cloud Flexible Engine with the benefits of the private cloud for even more security and availability.
Deploy Flexible Engine Stack on your premises or in an Orange-operated datacenter, and benefit from a private Flexible Engine region for your most sensitive data, and deploy in the Public Cloud for your most intense uses.
Our teams install the hardware and you create your VMs at no additional cost through a powerful and ergonomic technical console.
Learn more
We support you as close as possible to your users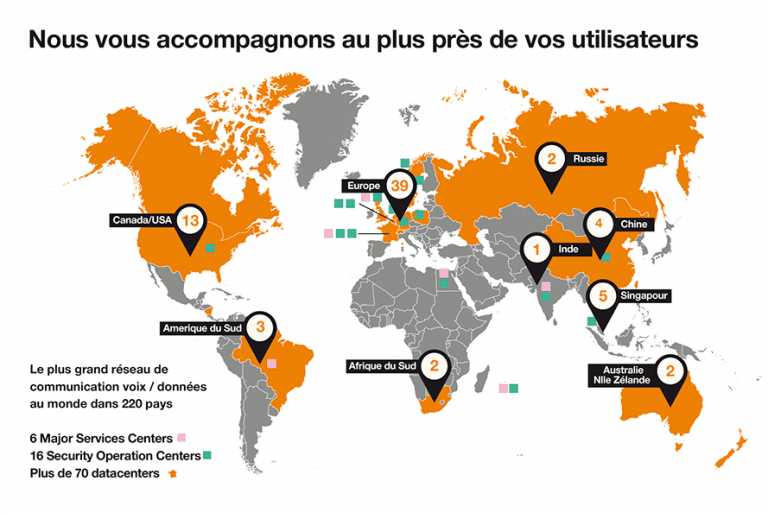 Private cloud on hyper-converged infrastructures
The private cloud solutions are available in hyper-converged version for:
A minimal upfront investment to have multi-function servers.

A progressive cost based on the growth of usage.

Scaling by simply adding servers.

High-availability and resumption of business architectures in the event of a disaster.
Transformation to the 3rd generation cloud
This transformation involves migrating from a virtualized environment to a "Software Defined" private cloud environment with the following benefits:
Enhanced security and filtering at each VM and container rather than perimeter thanks to VMware NSX™.

Software Defined Data Center that provides flexibility to reconfigure between computing, storage and network with minimal on-site physical intervention.

Open APIs, orchestration, automation and hybridization with the public cloud.

Kubernetes and Paas for native cloud applications based on micro-services.
Protection and permanent availability of data
Avec ses solutions de cloud privé, Orange Business Services propose des plans de sauvegarde et de continuité d'activité gérés pour protéger les entreprises contre les risques de pertes de données.
Les sauvegardes sont validées, automatisées et supervisées en 24/7 afin de restaurer les données en cas de pertes.
Une large gamme de solutions techniques est proposée en fonction des besoins du client (données stockées, machines virtuelles, bases de données opérationnelles, etc.), de la quantité, du temps de rétention, de la destination (locale, distante ou cloud), des objectifs de temps de restauration (RTO) partiels ou complets, des objectifs de perte de restauration (RLO) tolérables ou intolérables et de la flexibilité du processus de restauration.