People in Tech – Discover the job of Cloud Solutions Architect – pre-sales
In the "People in Tech" series, discover people and their jobs who make the #Cloud comes alive within Orange Business.
For this fourth episode, we meet Safi KHOUIDRAT, Cloud Solutions Architect – pre-sales.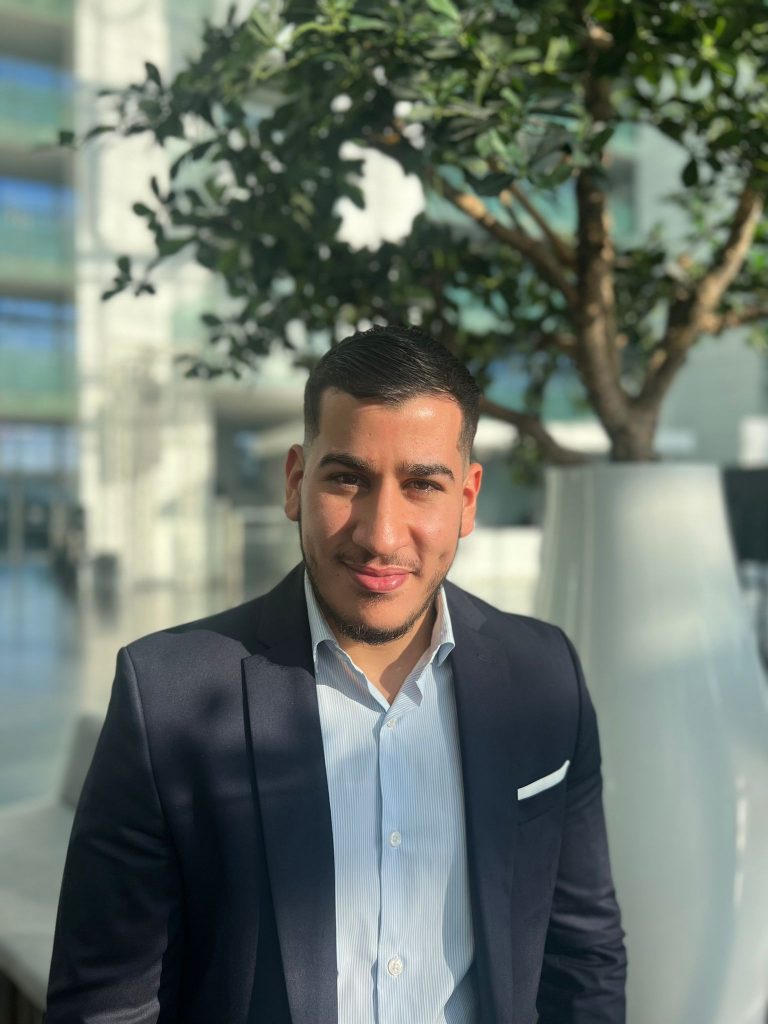 Describe your background and your job
After obtaining a university and technological diploma in networks and telecommunications at the Sorbonne Paris Nord University, I started a 3-year engineering course at the Ecole Supérieure d'Ingénieurs in Electrotechnique and Electronique (ESIEE Paris). This training allowed me to improve my skills in the field of pre-sales with the Orange Cloud For Business teams.
My job is to guide customers during their digital transformation. Throughout this process, different steps appear to be essential during the pre-sales phase:
The qualification of the need: consists in determining the technological, technical and operational needs of the customer project by taking into account its stakes and/or constraints.
The definition of the target solution: allows us to define a technical architecture that meets a functional need. Indeed, this step is one of the pillars of the pre-sales phase and is modeled in several parts:

Cloud model: IaaS, PaaS, CaaS, SaaS
Target offer: Orange public cloud (Flexible Engine, Cloud Avenue…) Partner (Google cloud platform, Azure, AWS…)
Security: Need for resilience in order to guarantee a recovery or continuity of service (Disaster Recovery Plan, Business Continuity Plan, Dual-Room, Dual-Site).
Support and service management: Orange Business Service offers support from the audit phase to the infrastructure run by relying on our cloud experts.
Support and commitment: SLA, GTR (Guaranteed Recovery Time), GTI (Guaranteed Response Time), governance
Financial estimation: aims to provide a detailed costing of the proposed solution while ensuring that the customer's budgetary issues are respected.
Creation of the technical and commercial proposal: this includes the target architecture and the financial estimate.
Customer presentation: this is the final pre-sales phase, where our solution is presented in tandem with the Business Manager. The technical discourse is carried by the pre-sales team while the financial part is presented and negotiated by the business manager.
What drives you in this sector, your job, your missions?
Why the cloud?
Nowadays, the Cloud appears as a real technological revolution in the IT world. Indeed, it is a booming field that is constantly evolving with the relevant and innovative services it offers: Machine Learning, Artificial Intelligence, Big Data …

Similarly, it is an exciting sector that is transverse to other areas of IT such as : Cybersecurity, networks, unified communication, IoT…

The Cloud gives us the opportunity to be at the heart of all these topics and to continuously feed our technological culture.
Why pre-sales?
It is true that I have always had a strong interest in the pre-sales profession.
First of all, this position allows me to have a real interaction with different strategic activities, such as project management and customer relations. Notions and know-how for which I have always been intrigued during my academic and professional training.
Furthermore, pre-sales plays a central role by interacting internally with technical experts, business managers, marketing and project managers during the handover phase and externally with our customers and also with our partners Google, Azure, AWS…
Finally, the pre-sales person must have both a technical and a commercial hat because he/she is the guarantor of the feasibility of the proposed solution and must adopt a customer posture while developing an excellent relationship with the aim of creating an environment of trust.
Share a success you are proud of
One of my successes to date is winning a deal for a global leader in the banking and insurance industry.
This project consisted in hosting within the Orange public cloud in our Flexible Engine platform an analytics solution for call centers. The solution is based on innovative technologies and services such as Artificial Intelligence, Machine Learning and Containerization.
The application allows to transcribe the conversations made in the call centers into text files to be processed by the AI in order to analyze the quality of the advisors' discussions to establish recommendations and improve the customer relationship.
This experience was extremely enriching and exciting for me. Indeed, it gave me the opportunity to confront myself with new technologies from which I was able to draw, thereafter, new skills.
The project build was finalized last week and the customer feedback was very satisfactory.
The factors that allowed us to win this deal were multiple. First of all, the technical feasibility was a real asset because of the different services available in our catalog. Then, the support and follow-up offered by our teams played a major role in the signing of this deal. Finally, the trust established with the client greatly facilitated our work!
What evolution would you like to see in your job?
In order to improve the relationship between the customer and the pre-sales department, I think it is appropriate to have a contact with our different customers. Indeed, this will allow us to establish a real relationship of trust and we will benefit from many advantages such as the quick identification of their possible needs.
Any advice for a young person who would like to enter this sector or your profession?
The advice I would give is the following: do not hesitate to launch yourself into this wonderful sector of the future, show determination and tenacity.
The Cloud is a field that is developing exponentially, and moreover, multiple evolutions are possible, but above all really attainable within it. Moreover, it is full of many interesting and very enriching notions for any person with a certain computer and technological curiosity.
There are many different career paths in this field of activity that is the Cloud. By being motivated, rigorous and curious, you will have all the chances on your side to reach your professional goal in this field!