Public Cloud – Flexible Engine
Direct Connect Premium – Connect internal private network to a Flexible Engine Virtual Private Cloud (VPC)
Direct Connect allows you to connect Flexible Engine to your corporate network in MPLS or BGP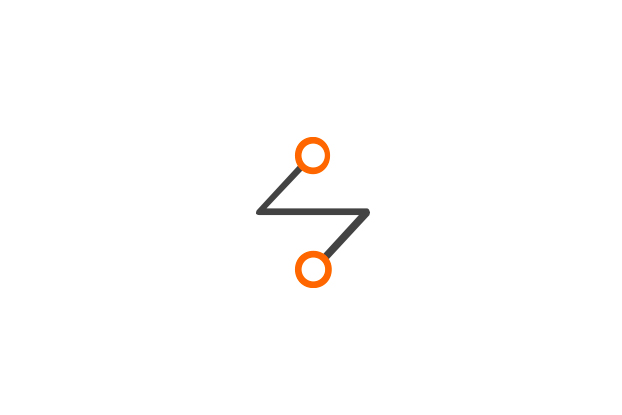 To connect your internal private network to a Flexible Engine Virtual Private Cloud (VPC), you have 2 possibilities:

Dedicated connections: You can deploy your own routers on Flexible Engine Direct Connect locations and connect your routers to Flexible Engine direct connect routers.
Mutualized connections: You can use a network service provider like Orange Business Service to connect your sites to Flexible engine.
Flexible engine direct connect premium service allows you to configure your Direct Connect through the Flexible Engine console. Through our partners, we offer several Direct Connect options to fit with your network configuration and requirements.
OBS Galerie VPN Access to Flexible Engine: Basic Concept
OBS Galerie VPN provides you a secure access to your Flexible Engine environment via your corporate Business VPN without going through the public internet. Your connection to Flexible Engine benefits from the same security, reliability and performance levels than your Business VPN.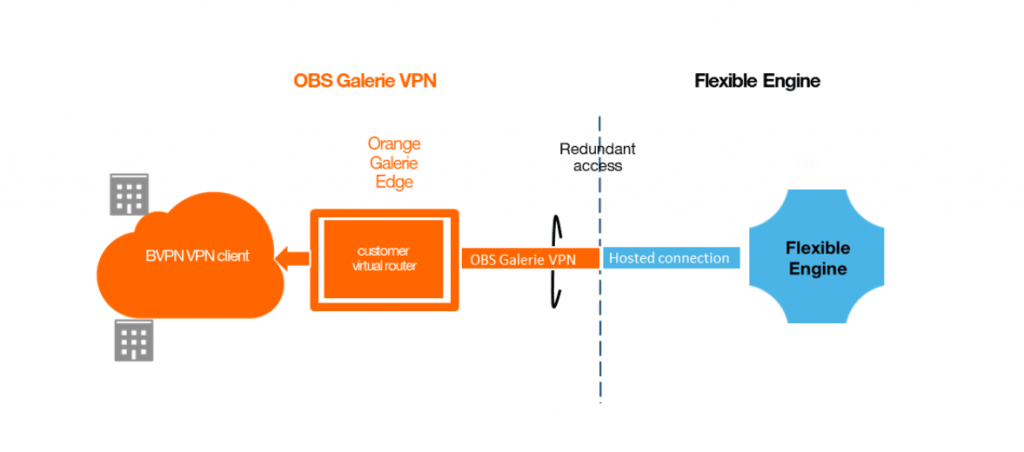 OBS network is providing an 'any to any' IP connectivity between all your BVPN sites, Flexible SD WAN sides and Flexible Engine.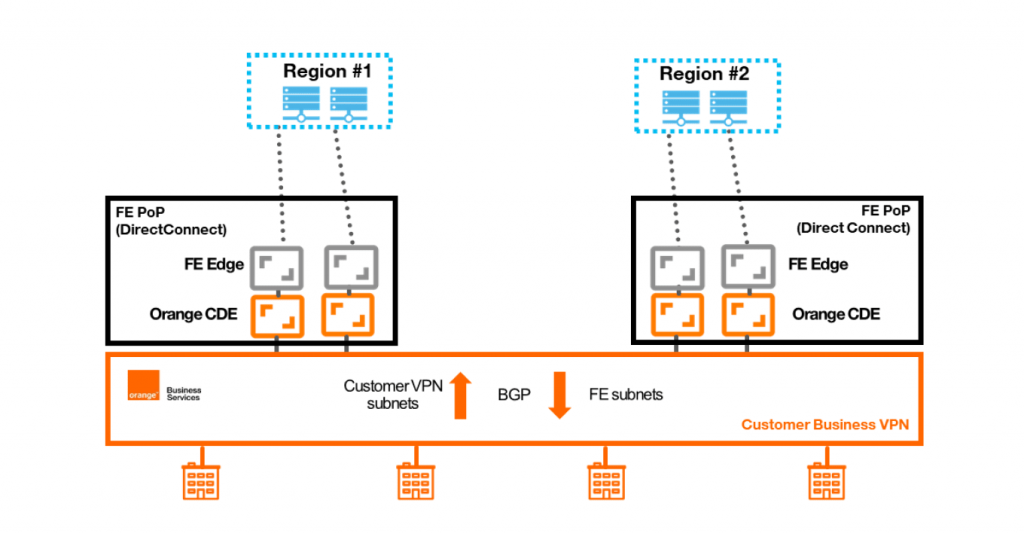 Flexible Engine Design
This section is describing the different direct connect logical components to configure your Direct Connect with an OBS Galerie VPN.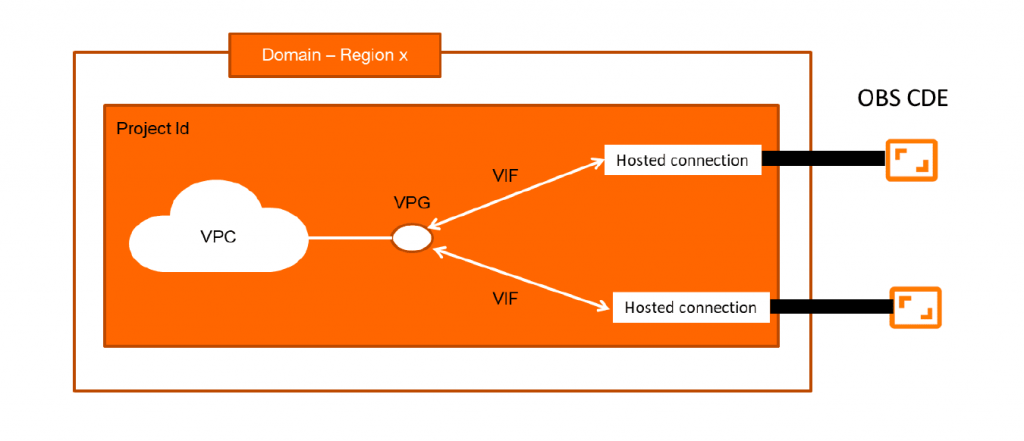 Your OBS Galerie VPN access is connected to your cloud services through a virtual connection called 'hosted connection' that is established by our OBS network partner in the selected region. For redundancy purpose, there are 2 hosted connections in distinct Availability Zones of the region to connect. The 2 hosted connections are configured by OBS network service providers.

In order to connect a Virtual Private Cloud (VPC) to your OBS Galerie VPN access, you need to create and configure the following logical components:
Virtual Gateway (VPG): It is the logical gateway for accessing a VPC. A VPG can be associated with only one VPC. The VPG can be associated to the 2 hosted connections.
2 Virtual Interfaces (VIF): A Virtual Interface associates a hosted connection with a Virtual Gateway which connects to a VPC so that your private network can access the cloud. Both redundancy purpose, you need to configure 2 Virtual Interfaces, one per hosted connection.
Should you need to connect several VPC to the same connection, you may use VPC Peering feature. The VPC connected to Direct Connect will act as a transit VPC to reach all your cloud resources.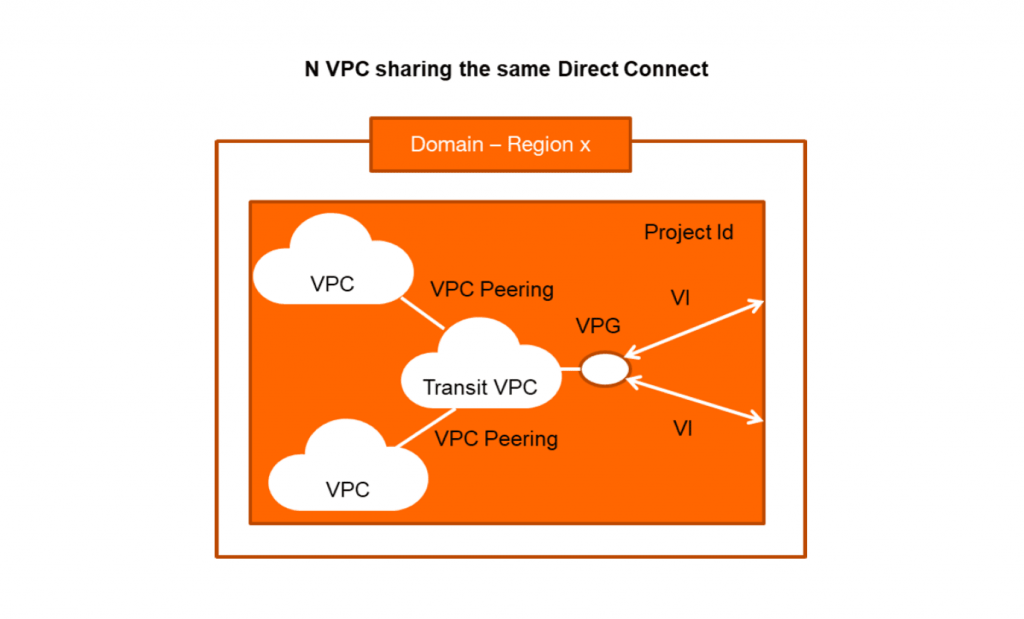 Process overview
In order to connect your Flexible engine cloud service to your OBS BVPN network, you should follow the 3 below steps :
Step 1 : OBS Galerie VPN order
You need to order in the desired region an OBS Galerie VPN. You will need to provide OBS account manager the region, the FE contract Id, FE Domain name and FE Project Id, FE technical contact and the required bandwidth.
Step 2 : OBS Galerie VPN processing
Once the order will be submitted to OBS customer network operation, OBS network partner will configure the access at the network interconnection and the 2 hosted connections. Once the access will be ready, OBS network partner will send you an email to inform that the access is ready. This notification will include all the technical parameters to configure your FE Direct Connect.
Step 3 : FE Direct Connect configuration
Upon the reception of the OBS notification, you can configure your VPG and VIF with the technical parameters included in the notification.
Characteristics
| | |
| --- | --- |
| OBS Galerie VPN | Equinix Cloud Exchange |
| Level 3 VPN connectivity (connects all customer sites) | Level 2 VPN connectivity (local connection) |
| No router to manage or deploy | Need to deploy routers and manage VPN level 3 |
| Natively redundant | Redundancy to be deployed by the customer |
| End-to-end service level SLA | No end-to-end SLA |
To facilitate your grip :
Self-provisioning user guide