Flexible Engine

Release Notes
August, 2023
---
Enhancing Payment Processes and Billing Notification
What's new?
We're pleased to introduce a significant upgrade to our Flexible Engine invoicing system. Moving forward, the invoice will be sent on a monthly basis to your designated administrative contact. This refined approach ensures that payments are aligned with the contractual terms. Alongside this enhancement, you now have the option to activate notifications in the Cloud Customer Space under the"Bills" section. This means you will receive alerts when your invoice is ready for viewing. This improvement not only offers added convenience but also empowers you with more oversight over your billing details, making it simpler to manage your financial commitments.
How it works?
In the "Bills" menu of the Cloud Customer Space, click on Notice of publication and select the notification parameters
You can activate a notification on 3 billing files that are produced monthly: invoice (PDF document), billing report (XLS format), details consumption report (CSV format)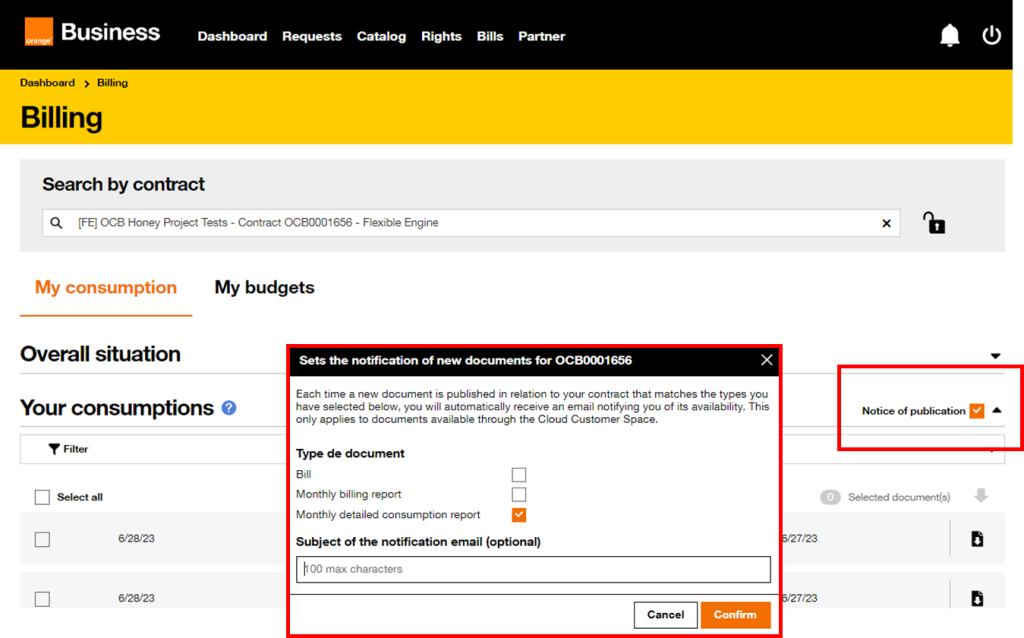 Limitations
If your organisation is not based in France, your invoice (PDF document) is not managed by the Cloud Customer Space but by the Orange customer portal : refer to the help resources of this portal to be notified of the invoice (PDF format). However you can also be notified of billing report (XLS format) and detailed consumption report (CSV format) availibility with the Notice of publication feature.