Google Cloud
Big Data solution on Google Cloud for your business
[Multicloud]
Unlock the value of your data and improve the business performance of your company
In the current context, data capture, collection, and structuring are essential imperatives for businesses. Data has become a crucial resource for driving and analyzing business performance. To gain a deep understanding of the company and its activities, it is crucial to utilize Business Intelligence applications. These applications enable the comprehension of customer behavior to make informed business decisions.
Therefore, it is vital to minimize the time it takes to obtain information by making data access more accessible to everyone. Additionally, it is necessary to train your teams on analytical tools to fully exploit these resources. This dynamic aims to transform disparate information into concrete results and relevant indicators. It is essential to integrate this information from the early stages of design, production, and marketing processes. By doing so, businesses can fully leverage their potential through proactive use of data.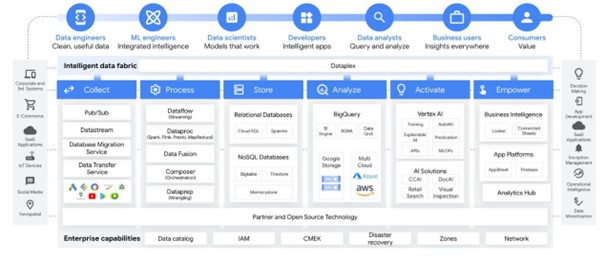 Benefit from the expertise of Orange Business teams to shape and successfully execute your Big Data projects on Google Cloud. We accompany you at every step of your project, including data formatting. With our know-how, we assist you in fully harnessing the advantages of cloud computing and maximizing the value of your data. Trust Orange Business for efficient and optimal execution of your Big Data initiatives on Google Cloud.
4 steps to successfully implement your enterprise data strategy

Data assessment
1) ETL data summary :
Data purpose
Data schema
Data volume
Criticality of flows
Description processing
Original data location and format
2) Deliverable including architecture and mandatory Google services :
Final presentation
Existing assets and database structures
Security and encryption
Migration project plan and costs
Estimated operating costs
Towards a Data Ops approach
Depending on your requirements, needs and level of maturity, you can then anticipate the next steps by turning to Data Ops with the support of Orange Business experts. We build the final solution taking into account data evaluation and/or an existing audit. If you don't have the appropriate technical resources, these services can be managed entirely by Orange, allowing you to concentrate on your core business.
Our approach aims to make your platforms scalable, with a pay-per-use model. In short, it's a solution that's easy to deploy, thanks to integrated tools that ensure a seamless deployment process. The security of your data is a priority, and our experts guarantee its encryption. Our main objective is to enable you to access and analyze your data accurately and in near real time.
Trust Orange Business to provide you with a complete, scalable and secure solution that meets your needs for in-depth data access and analysis.
Our 5 pillars for reliable and comprehensive data management
An end-to-end managed data platform
Fast, data-driven decisions
Automated deployment of environments
Expertise to ensure data quality and availability
RGPD-compliant data governance and corporate policies
Discover our use cases
Carrefour Belgium wanted to modernize its data chain and optimize the utilization of its data.
Our solution
Migration to Google Cloud Platform (GCP) via Cloudera enables secure and open storage and processing of data.
Result
Carrefour can leverage its data more efficiently and utilize Google services such as stock reporting, data science, Vertex AI, and BigQuery.
Conrad was seeking to standardize, manage, and efficiently share its data across its services and entities in a simple and effective manner.
Our solution
An architecture of microservices packaged in containers, and then executed in Kubernetes, enabled high throughput processing. Once cleansed, the data is distributed, processed, and stored through other microservices.
Result
A Big Data platform that makes structured data from all connected sources available in real-time.
Support for ad hoc queries through BigQuery.
Elimination of data silos.
Self-service approach enabling simplified data analysis and dashboard creation.