Flexible Engine - File and Application Backup user guide

Updated on :
FAB Backup console description
FAB provides an HTML 5 console to administrate your protection service.
Your FAB environment refers to your "Company" as the Flexible Engine domain to which it's related.
You may have as many FAB companies as you have subscribed for within your Flexible Engine domain.
The console is set in the following sections:
Dashboard
A Dashboard offering a global vision on your company's protection.
Remember to select your Company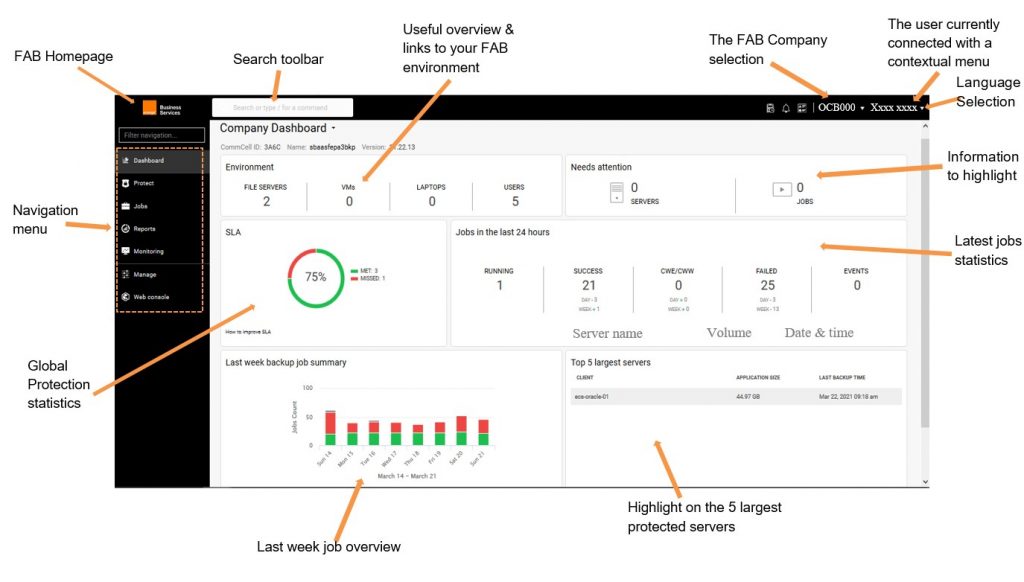 Protect
The Protect section lists, by type, all the FAB agents you have installed for this FAB Company.
From there, various operations are available depending on the agent type: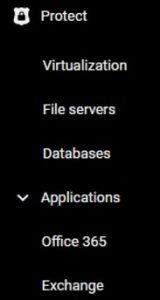 For all agent types, the display is as follows: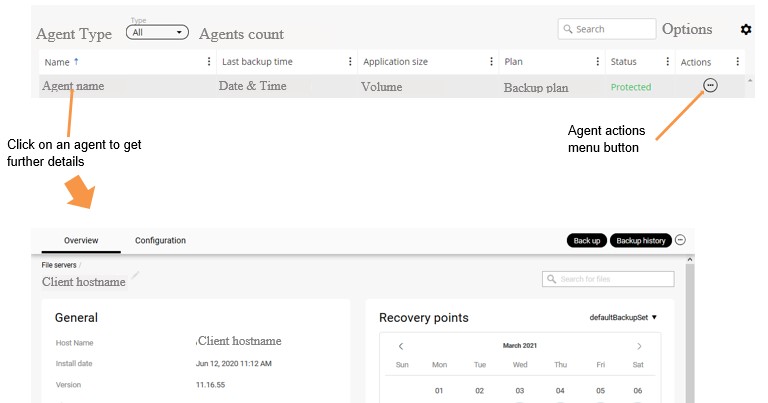 Jobs
This section is split in 2: Active jobs & Jobs history

Reports
You may find here all built-in reports to follow up your protection activity: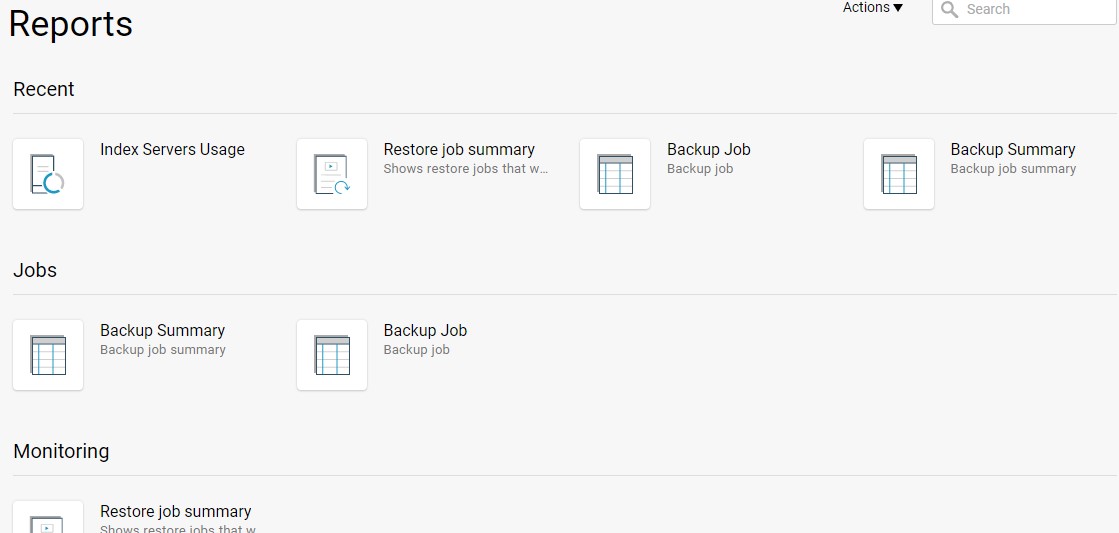 Monitoring
The Monitoring section provides vision on 2 sub sections built to help monitor the protection activity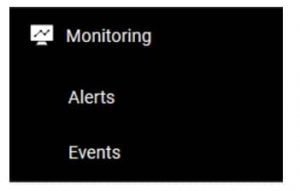 Alerts

Events

Each event ID is unique, one job = one event ID
Storage
The Storage section also provides vision on 2 sub sections, built to help designing your backup storage (in a Bring Your Own Storage model):

Disk
Where you can manage your On premises storage libraries to use for storing backups on your Premises

Cloud
Where you can manage your Cloud libraries to use for storing your backups in the Cloud

Manage
This section is used to manage the protection of your devices (listing, configuration, installation, removal…)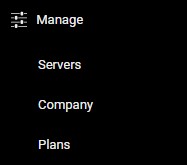 Servers

Company
If you have selected the Company, it also brings the Configuration section providing general detail on the selected Company.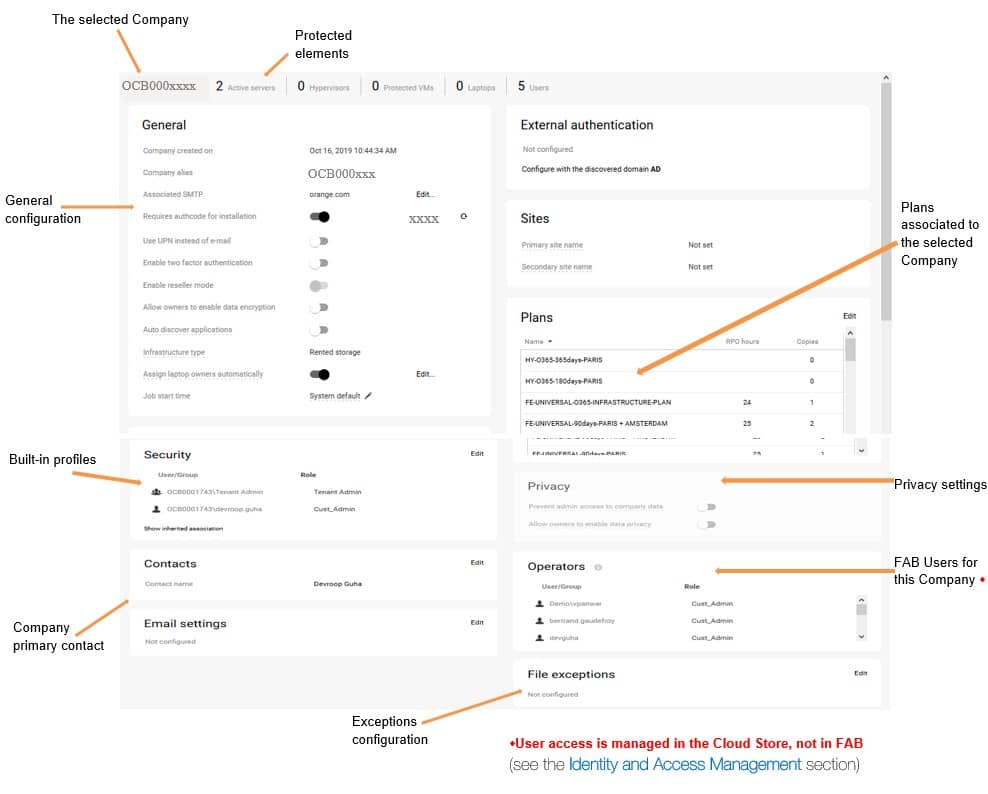 Plans
It's also in this section that you will find the "Plans" menu in order to manage your Backup plans.
Note:
The Plans listed here are all the plans you can use for your backups:
The plans you have created to store your backups in your libraries
You can manage these plans in this section
Universal predefined built-in plans brought by the FAB team in order to store your data on FAB built-in storage.
These plans are not editable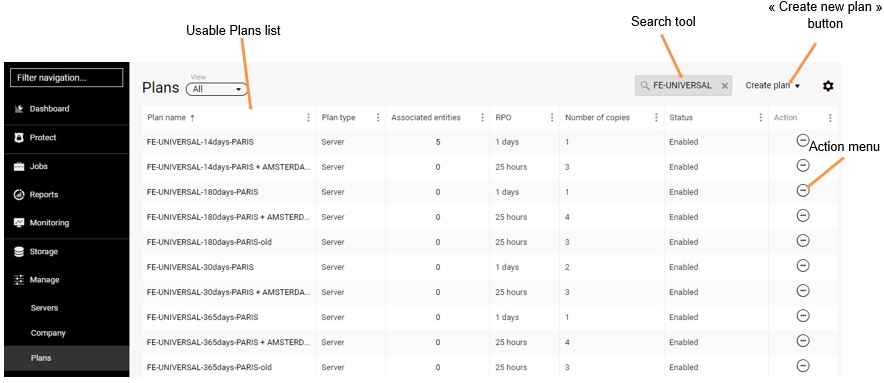 Web console / Download Center
The Download center is used to download all the FAB agent packages to install on your devices to initiate their protection.