Certifications of our cloud solutions
ISO 27001 Certification
[Certifications]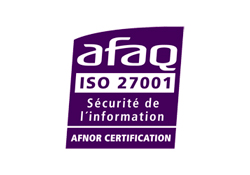 An ISO27001 certified public cloud guarantees that the IS management system is in place to manage risks, vulnerabilities, sustained activity, security incidents, suppliers, legal compliance, secure recruitment, logistical and physical access, security by design, networks, hardening, etc.
Multiple security checks are conducted every year to maintain the certification.
What was the scope of the certification?
As of today, the entirety of Orange Business is certified, the 114 security measure in the ISO 27001:2013 annex A are applicable.
Private cloud solutions
Flexible Computing Premium
Flexible Computing Santé
Flexible Engine
Flexible Computing Advanced
Flexible Storage
Flexible Hosting / NetHosting
Managed Applications
Flexible Workspace
Flexible Recovery
Click and transfer
The following physical sites and data centres are included in the certification:
Cesson-Sévigné
Lyon
Boulogne Billancourt
Montreuil (NEOCLES)
Egypte – Cairo
Maurice Island: Eben, Rose Hill
Inde: Delhi-Gurugram, Mumbai
Normandie: Val De Reuil data centre
Rueil Malmaison data center
Datacenter Chevilly Larue data centre
Chevilly Larue data centre
For third party data centres, Orange Business favours ISO27001 certified partners.