Public Cloud – Flexible Engine
Workspace – a virtual desktop product that consists of CPUs, memory, disks and Windows operating systems (OSs) and can be subscribed to on demand and used any time anywhere
Configure cloud-based desktops with ease and access documents and applications from any device, including Windows and MAC computers, thin clients (TCs), iPads, iPhones and Android smart phones and tablets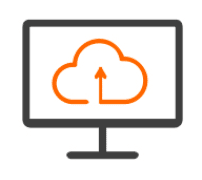 Service End of Life – new solution
Our Workspace service has won over many of our users. In order to cover more use cases we have decided to overhaul the core technology behind our Workspace service with a specialised solution provided by oneclick™ that will be integrated into Flexible Engine. The current version of our Workspace service will be closed June 30th 2022. Our new oneclick™ service will be available from January 15th 2022, with guidance and support for the simplest possible migration.
For more information about the migration refer to the release notes.
For more information about our oneclick™ service refer to the marketplace catalog.
Service
After enabling the current Workspace service, users can subscribe to Workspace instances (CPUs, memory, user disks, and OSs) as required. The system creates Workspace instances and notifies the Workspace end users.
The Workspace service meets typical office requirements and provides Workspace instances with graphics processing unit (GPU) capabilities that can cope with demanding graphical requirements.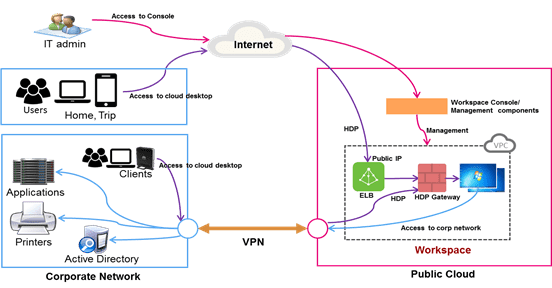 Workspace instances, which are ready to use out of the box, can be flexibly provisioned and deleted through a web-based management console.
Rapid deployment
Deploying a conventional virtual desktop infrastructure (VDI) takes several weeks or even more. A Workspace instance can be deployed rapidly and be ready to use out of the box.
Simple management
Users can manage hundreds of Workspace instances using the web console.
Diverse resource specifications
Users can select desired package specifications (CPUs, memory, disks, and GPU) from a wide array of Workspace package specifications to meet onsite service requirements.
B
enefits
Secure
Data is not stored on devices and only the virtual desktop screen is displayed on the local device. Workspace utilizes resource isolation, network isolation, and security group rules to provide a secure environment.
Optimal experience
High quality display ensures optimal experience even in High Definition (HD) graphics scenarios.
Flexible
Resources can be provisioned in minutes. Mobile office featuring 4A (Anyone, Anytime, Anywhere, Anydevice) and powerful software and peripheral compatibilities bring you a convenient and flexible office experience.
Scenarios

Application Scenario


Characteristics

Applicable Customer Group

Mobile access




Employees without fixed workstations can log in to their desktops using mobile devices (such as iPads or Android tablets) to access enterprise application systems.



Employees who travel frequently
Employees who work in different locations

Short-term use



Desktops and required application systems can be configured for short-term employees in an enterprise. The desktops can be terminated after the short-term employees leave.
Desktops can be easily configured for trainees in training institutions or academic environments so that the trainees can access required resources. The desktops can be removed after the courses end or at the end of the semester.


Contract staff and short-term employees
Trainees and learners

Secure Office Automation (OA)



Managed desktops that meet compliance requirements can be provided to employees. The access to physical peripherals can be controlled. Data is not stored locally to improve the data security of the enterprise.
Desktops are configured for developers, and tools are installed for application developments. The application source code is not stored on the developer's device, protecting enterprise intellectual properties.


Enterprise employees
Development and test employees

Branch office





Employees at branch offices or remote workers can access desktops. The necessary permissions can be assigned to access applications. Data is not stored locally.




Remote employees
Branch office employees

HD graphics



A 3D graphics processing capability provided to end users by the desktop cloud solution. This feature supports various HD graphics applications, including Computer Aided Design (CAD), Geographic Information System (GIS), 3D game software, and multi-media video editing software. It meets the HD graphics processing requirements from different industries, such as engineering, manufacturing, oil, automobile, healthcare, game, and media.



3D graphics users
Usage Restrictions
Supported TCs
Windows TCs are supported, and TCs from mainstream manufacturers, such as Huawei CT Series, Dell 7490/ 7290/5490/5290 and HP pro X2 612/T628, are recommended.
GPU desktop client requirements
PCs only.

Recommended configuration: 2 GB memory, 3 GHz (dual cores).

Configuration for multiple monitors: 2 GB memory, 3 GHz (dual cores).

Minimum configuration: 1 GB memory, 2 GHz (one core).
Image restriction
Customized third-party OS images cannot be uploaded.
Network quality requirements
Instance Type

Description

Workspace General


Average bandwidth: 300 kbps/ instance; Peak bandwidth: 5 Mbps/instance.
Packet loss rate ≤ 0.01%
Round-trip delay ≤ 30 ms
Jitter ≤ 10 ms


Workspace vGPU


Average bandwidth: 20 Mbps/instance
Packet loss rate ≤ 0.01%
Round-trip delay ≤ 30 ms
Jitter ≤ 10 ms
These values are for reference only and may be more stringent depending on the application scenario.
Must be used in conjunction with the Direct Connect service.